Summer Camp in Pembroke Pines
Child Care for the Summer
Summer day camp is the perfect opportunity for your child to spend the summertime enjoying quality time spent with friends and taking part in healthy activities for the body and mind. At Tanglewood Academy, our summer camp in Pembroke Pines offers low student to counselor ratios and a wide variety of exciting and educational field trips, activities, and more that will create lasting positive memories your child will remember fondly for a lifetime.
The Benefits of Summer Camp for Kids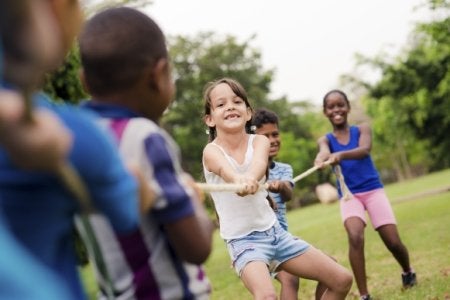 Summer vacation is a well-deserved break from the hustle and bustle of the regular school year. However, it can be easy for your child to laze the summer away and challenging for you as a parent to maintain your daily schedule while ensuring your child gets the greatest benefit from his time spent out of school. At summer day camp, your child will enjoy a variety of activities that are targeted toward learning and creativity, while also focusing on spending quality time with others and having fun. Summer camp mixes physical activities with new mental challenges and important social skills to help your child get more from each day at camp without adding stress or focusing on structure or grading over personal growth. During his time at summer camp, your child will learn valuable skills and concepts such as teamwork, self-confidence, self-expression, and problem-solving, all in a positive, supportive, and fun environment.
Tips to Prepare Your Child for Summer Day Camp
Whether your child has attended summer day camp for several years or this will be his first experience with day camp, there are several steps you can take to ensure he is ready to enjoy camp activities. If you'd like to learn more about Tanglewood Academy's summer day camp programs near Pembroke Pines and how you can become more involved in your child's day camp activities as a parent, please call (954) 431-8805 today.
Talking to your child's day camp staff ahead of time can help you get a better idea of the activities and trips that are planned for your child's program. You can pass this information along to your child so he'll know what to expect, which can alleviate fear or worry associated with the unknown, especially if he's never attended day camp before.
Involve your child in picking out his clothes and choosing any supplies or snacks he'll be bringing to summer camp. Preparing ahead of time will not only reduce stress and scrambling in the morning, it allows your child to feel more confident that he is prepared and lets him find unique ways to express himself to others during his day camp experience.