Is your pre-k child being introduced to the alphabet in school? If so, then as a parent, you're probably eager to support your student along his path to reading literacy. If you're wondering what you can do to help your child in pre-kindergarten in Pembroke Pines with letter recognition, then read on for some tips to try.
Focus on His Favorites
When it comes to helping your pre-k student enjoy the process of learning how to recognize letters, starting with the letters that spell some of his favorite words can be a great strategy for sparking his enthusiasm. Many parents find that their child's name is a good place to begin. Other words to consider focusing on include his favorite color, food, activity, and animal.
Turn Letters into Artwork
Making letters into something more artistic and tangible is another way to engage your child in the letter recognition learning process, and one way to do this is to turn letter recognition practice into an art activity. So, consider bringing out the finger paint and paper and letting your student draw the letters that he is learning.
Integrate Learning into Daily Life
Helping your child with letter recognition outside of school does not require that you set up special activities. After all, there are letters all around your home and community. Because of this, you can turn everyday tasks like reading the newspaper in the morning or buying food at the grocery store into opportunities to help your child recognize letters.
Try a 3-Dimensional Approach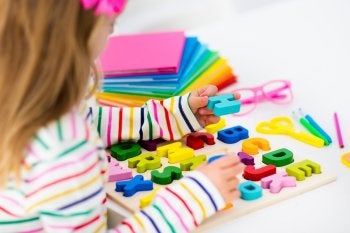 Finally, one more excellent way to help your pre-kindergarten student with his ability to recognize the letters of the alphabet is to provide him with a 3-dimensional perspective. To do this, simply toss some letter shapes, for example, the magnetized kind that you may have on your refrigerator, into a bag. Try starting out with 4 or 5 of the letters that your student is learning and then encourage him to identify each one while feeling them in the bag instead of looking at them.